Written by A. Smith
Published December 11, 2022 @ 12:40 PM ET
Last Updated December 14, 2022 @ 3:12 PM ET
Update: According to the Cherokee County Sheriff's Office, William Bryan Abernathy has been released from the hospital and was booked into the Cherokee County Adult Detention Center on Tuesday evening. He is currently in custody and being held without bond.
Cherokee County (December 10, 2022) – The City of Emerson is mourning the loss of its mayor and his wife after an alleged drunk driver caused a multi-vehicle crash that resulted in the couple's death. The fatal accident occurred on Knox Bridge Highway just east of Field Landing Road around 4 PM on Saturday.
Officials from the Cherokee County Sheriff's Office stated the driver of a Chevrolet pickup truck, identified as William Bryan Abernathy, 50, of Calhoun, was traveling east on Knox Bridge Highway when he lost control of his vehicle. Abernathy crossed the center line colliding with a Hyundai Santa Fe traveling in the opposite direction.
The driver of the Hyundai, Albert "Al" Pallone, 65, and his wife, Camillia "Millie" Pallone, 69, died at the scene. Albert Pallone was the current mayor of the City of Emerson in Bartow County.
Police said when Pallone's vehicle was struck, he lost control, and the vehicle overturned before being hit by a GMC Savanna truck. The GMC truck also struck a Mazda 3. A total of four vehicles were involved in the accident.
As a result of the crash, Abernathy was arrested and charged with DUI, first-degree vehicular homicide, serious injury by vehicle, and reckless driving.
Abernathy was injured in the crash. He is currently receiving treatment for non-life-threatening injuries at a local hospital and will be booked into jail upon his release.
The drivers of the GMC Savanna and Mazda 3 sustained non-life-threatening injuries and were transported to Wellstar Kennestone Hospital for treatment.
The City of Emerson released a statement regarding the passing of the mayor and his wife: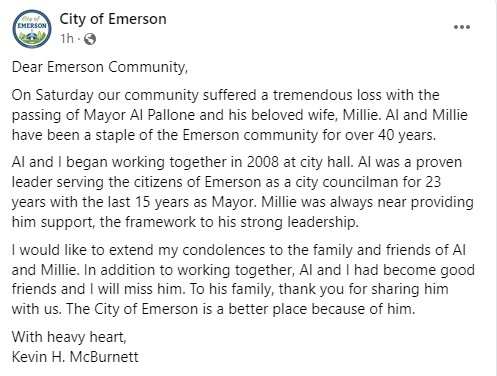 This case is currently pending and will be updated once more information becomes available.